Vinyl Siding Contractors in Albany NY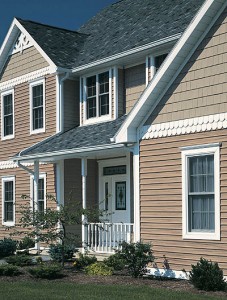 The first layer of protection for your home is without a doubt the siding.  While the siding of your home can consist of a number of different materials, there are specific qualities that you will want to be looking for when deciding upon a material to use.
Siding Materials
Wood siding is very cost-efficient but depending on the coating, it may or may not have the same durability as other materials.  Aluminum or steel siding are definitely some of the most durable of the materials available, however, aesthetically, these materials leave much to be desired.  Vinyl siding is the best of both worlds, providing insulation and protection, while helping achieve a look for your home that is pleasing to the eye.
Vinyl Siding Manufacturers
There are a number of different vinyl siding manufacturers to choose from.  If you are going to go with a high end name brand, your first choice should be CertainTeed.  As their name implies, CertainTeed is trustworthy and reliable and you can always count on their materials bringing you the best in quality and efficiency.  Here, you can learn more about CertainTeed siding materials.
Provia is another company that produced extremely high quality materials for home siding.  Their vinyl siding has a very high rated level of insulation that will help any homeowner cut costs and maintain high energy savings year-round.  Provia's CederMAX Insulated Siding is the #1 recommended siding!
Either way, you cannot go wrong with both of these siding manufacturers.  What really can make a difference, however, is your choice of contractors for installing these brand names.  Contact us today and we will give you a free estimate to help you find a better solution for siding for your home.