Shower Enclosures in Your Home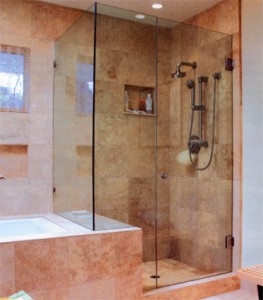 Remodeling your bathroom can be an enjoyable process if you follow the proper sequence of steps.  Taking your time in determining which types of bathroom fixtures you will be using for the remodel will make a world of difference.  The toilet, the sink and the shower enclosures are all important considerations to be had when remodeling your bathroom.
If your shower enclosure is shaped like a square or slightly longer (rectangular or oblong) then you will be appealing to a more conservative crowd when guests visit your home.  By using an open non-enclosed space, you will be bringing a more modern and trendy feel to your bathroom space.  Some people prefer to have shower enclosures that are fairly open and do not even have separating glass or a shower curtain.
If you are thinking of going with real glass versus plexiglass, you should probably go with the latter.  You are going to want to have a material for your shower enclosure that is really easy to clean and does not break or crack easily.  For any serious bathroom remodeling project, you are definitely going to want to choose the best brand names for shower enclosures.  Don't worry if you haven't thought of all of this before.  Just by going with a trusted contractor and using the best materials. you already have a serious head start compared to many who are considering making improvements in their bathrooms or showers.
If you contact us today we can provide you with a free estimate and we always beat any competitor estimate by 10%!