Kitchen Remodeling in Albany, New York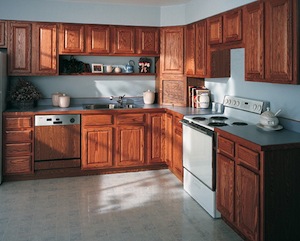 If you have made the decision to begin a kitchen remodeling project for your home, you may want to keep in a mind a few things before getting started.  There are certain steps that every smart homeowner takes before beginning any serious home remodeling project.  You'll want to start by contacting Albany Home Remodeling regarding current promotions that may be available to help make your new endeavor extremely affordable while maintaining the highest in professional quality and standards.
The first thing that every homeowner should do, is consider what aspect of their kitchen they really would like to change?
We know that this can be difficult, as some homeowners are may want their entire kitchen changed.  This is certainly okay, however, it helps both the contractor and homeowner to have a clear understanding of what parts of the kitchen need to be modified and in what way.  In order to make sure that your kitchen comes out perfectly and the way that you intend, we will want to know exactly what you are picturing and how you would like the end result to be.
What if I'm not exactly sure how I want my kitchen to look?
This is quite okay, since our contractors have many years of experience working with clients with all different tastes and preferences for their kitchens.  We supply them with pictures of various types of kitchens and kitchen parts, such as the cabinets or sinks, and help our clients pick out exactly what they would like to see in their own homes.
What else should I consider when remodeling my kitchen?
You should think about the functionality of your kitchen design.  You want there to be an ease of use, so that navigating your kitchen is effortless and makes every activity you do their convenient and enjoyable.  Our contractors are experts in designing efficient and aesthetically pleasing kitchens.  Adding an island or other fixtures in the kitchen can help to tie things together and increase usability and efficiency.  We work closely with our clients in order to make sure that they are completely satisfied with the final result from their kitchen remodeling project.
If you are looking to have your kitchen remodeled, please contact us today via our contact form and take advantage of our current promotions.  If you are located outside of Albany New York you can look at this website, the kitchen remodelers directory.