Kitchen Flooring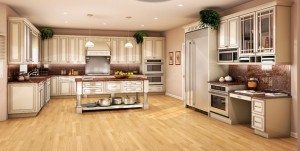 If you've been wondering what kind of flooring you should be using for a kitchen remodeling project in or around the Albany New York area, then why not follow the example of smart neighboring homeowners?  We will go over some of the most basic materials and things to think about before you take this important step in remodeling your entire kitchen.
Kitchen Flooring Materials – Tile or Wood?
This is always one of the most important and controversial questions that arises when someone is considering a full kitchen remodel.  Of course it really depends on the preference of that particular homeowner, still, many people argue and debate over whether or not tile flooring or wood flooring is best for a kitchen space.
Tile Flooring
Tile flooring can be completely water proof and resistant to almost all drips and spills in the kitchen.  This material can withstand any amount of exposure to water or other chemicals and is very easy to clean off.  Many people in more old fashioned or vintage style kitchens tend to prefer tile flooring as this style of kitchen flooring was more popular in earlier decades like the 1970′s.  The one weaknesses and caution homeowners should take when opting for tile flooring, is the potential for cracking and breaking in the tile.  This can be a big nuisance and can also be quite expensive to repair.
Wood Flooring
Wood flooring can be extremely resilient, and while many homeowners complain of the problems such as the wood becoming easily damaged by water or other stains and spills, most wood flooring is actually quite durable and can stand up to much of the same conditions that tile flooring can.  Don't think for a second that these materials are one and the same, as wood flooring will NOT survive extensive water damage or exposure to other elements like tile flooring can.
Laminate Flooring
Laminate flooring is a synthetic flooring material and some might say this material is the best of both worlds with respect to aesthetics and functionality.  Many laminate flooring materials can take on the appearance of wood and realistically replicate its appearance to the point that it is almost virtually impossible to tell the difference between genuine wood and the synthetic laminate.  Unlike wood flooring, however, the laminate material is even more durable and much more resistant to water and other forms of liquid damage.
No matter what you decide on, Albany Home Remodeling kitchen flooring contractors can provide you with a free estimate and guidance on which materials will best suit your kitchen flooring needs.  Contact us to day for your free estimate