Kitchen Countertops That Are Durable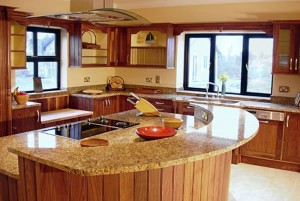 There are many different types of kitchen countertop materials one can use for creating or replacing an existing countertop in your home.  While marble and other granite or stone materials are commonly used, you can always use a more synthetic yet equally pleasing material to create a nice new look for your kitchen.  For homeowners who spend a lot of time cooking or working in their kitchens, making sure that whatever material you choose is durable is one of the most important steps that you can take in making your kitchen better.
The absolute best and most durable material that you can probably get for your kitchen is most likely engineered stone.  This material is man-made but is so powerful and strong it should be able to withstand almost any activity you currently engage in inside of your kitchen.  Granite and marble are also durable materials, yet minor scuffs and chips can sometimes cost a lot of money to repair.
Some of the more traditionalist home dwellers will opt for a wood countertop.  These are the least durable of all kitchen countertops but are also the easiest to replace if damaged.  This is something to definitely consider when shopping around for new materials for your kitchen remodeling project.  If you are looking for a contractor that can help you in making these tough decisions, Albany Home Remodeling is your trusted source for all things having to do with home renovation and home improvement.
Contact us today and we will gladly provide you with a free estimate.