Kitchen Cabinets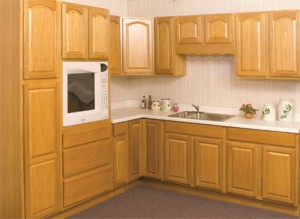 Many kitchen cabinets nowadays are built for aesthetic purposes as opposed to pure functionality.  Today's kitchen cabinets can withstand previously unheard of levels of exposure to both moisture and heat and many are more durable as well.  Many homeowners like the look of kitchen cabinets that seem to blend in with the rest of their kitchen, thereby creating a more sleek and modern kitchen design.  There are several things to keep in mind when picking out a material for your kitchen cabinets or other parts of your home.
Choosing The Right Kitchen Cabinet
Decide how important it is for your cabinets to have lots of storage space.  If you decide that this is not important after all, you can focus solely on the look and feel of your new cabinets, and not how efficiently they utilize the kitchen space.  Once you have determined that, you can then decide what material you want to use.  We have provided you with an amazing resource that goes into detail about all of the different kitchen cabinet materials.  Don't get overwhelmed, whatever you do!  This is really an easy process and we can help you every step of the way, so there is no need to worry.  We have provided you with a detailed kitchen cabinets guide here.
Kitchen Cabinets For Less
If you want to save money on your kitchen cabinets shop around on popular remodeling websites with wholesale rates or you can even contact your local Habitat For Humanity to see if they have used or refurbished kitchen cabinet sets available for resale.  Either way, you will save a lot of money doing a little bit of research up front instead of paying for it later.
Contact us today and we will provide you with a free estimate courtesy of Albany Home Remodeling.