Kitchen Cabinets Guide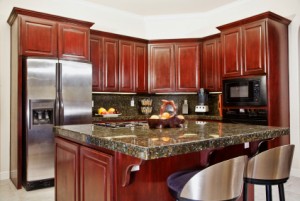 So you've decided to do a full kitchen remodel.  Now the first choice you are going to have to make is going to be is which materials you want to use for your kitchen cabinets.  We've set up a complete guide to help walk you through the entire process of selecting the proper materials, from start to finish.  Our goal in making this guide is to help make this process as simple and easy as possible for all new homeowners.
Kitchen Cabinet Materials
Depending on what material you have been using for the rest of your kitchen remodel, you will want to select a similar material, if not the same exact kind and color.  Many people want their kitchens to look symmetrical and even, meaning you will want to choose a color that matches all other aspects of your kitchen.  If you aren't sure how to do this, our professional contractors are able to make this process a breeze.  Still, whether you choose a redwood, oak, balsa, pine or other wood material, you will want the grain and color to be as close as possible to the rest of your kitchen.  Our contractors can sand, stain and polish whichever wood you choose to get the closest looking and most professionally finished look for your entire kitchen.  Here you can learn more about wood kitchen cabinets
Kitchen Cabinet Types
Just as there are many different types of materials from which the kitchen cabinets are constructed, there are also many different types of cabinet shapes and sizes.  If you go with a stock cabinet, you will be choosing a standard shape or size that is common in many homes.  This means that you will most likely have a square or rectangular shape for all of your kitchen cabinets.
If you choose a custom cabinet, you will then be able to take more freedoms and risks with your shaping and sizing of each individual cabinet.  This is ideal for homeowners that are looking for more freedom to completely change and renovate the look and feel of their kitchen.  Cabinets like these can often blend in with their surroundings and sometimes be hidden from the naked eye of visitors who enter the kitchen area for the first time.
Cabinet Hardware
This is the last and final thing to consider when deciding which types of kitchen cabinets to select for your home.  This final stage includes the knobs, handles and exterior decorative components of the cabinets.  When deciding which piece of hardware will best compliment the rest of your kitchen design, you may want to look at catalogues or pictures of already-completed kitchens for inspiration.  Cast iron knobs and handles can add a more antique look to your home while shiny minimalistic aluminum or steel hardware can help create a modern ambiance for your kitchen.
No matter what you decide to do for your kitchen, Albany Home Remodeling has a versatile team of experts that can help bring your vision of a better home to reality.  Contact us today.