Bathroom Vanities For Your Albany Home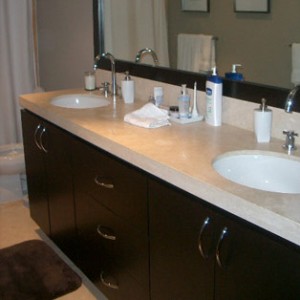 Many bathrooms will be looked upon as the best improvement to make to your home.  Bathrooms are continually becoming more and more critical to the overall look and appearance of your home.  They are actually one of the most important aspects of your home, believe it or not.  If you take the proper steps to improve the bathroom vanities in your home, that will help to improve the overall look and feel of your bathroom.  With an optimal balance of countertop or worktop areas combined with areas for storage, bathroom vanities will improve the overall functionality and efficiency of your bathroom as well.  There are so many different types of vanities to choose from and you are really only limited by your imagination.
Whether you are beginning your bathroom remodeling project looking for a particular shape, style, color or size, many bathroom vanities will be made up of vanity tops, mirrors, cabinets and sinks.  The center of all attention for most bathroom vanities is usually the sink area.  The mirror is also an attention-grabber and can be made of a variety.  If you are looking for a vanity with a mirror that has a frame or without a frame, either way you are going to be taking the key steps to improving your bathroom.
Some materials used to make most bathroom vanities can include marble and natural stone that are very strong and sturdy.  The most popular type of bathroom vanity available at the moment is a one piece bathroom vanity.  This piece comes with matching cabinets and matching sinks and also can include different types of bathroom lighting, such as cylindrical lighting.  If you opt for a frosted glass or more exotic or european style for your vanity you may be treating your house guests to a wonderful experience every time they enter your bathroom.
Contact us today in order to schedule your free consultation and we will also beat any competitor estimate by 10%!