Bathroom Remodeling in Albany, New York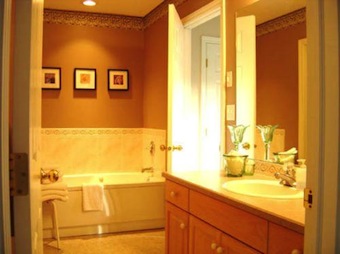 The decision to remodel your bathroom is an important choice that will make a huge difference in the overall quality of your home.  Whether you have just moved to the Albany area and are looking to make improvements to your home, or are trying to get your home ready to sell, our contractors can make all the difference in providing you with a newly remodeled bathroom of the highest quality.  By contacting Albany Home Remodeling, you can have a new bathroom that looks and feels exactly the way you would like.  We can help you achieve your vision for a better looking bathroom with our quality service.
Steps to a new bathroom
It is always a good idea to have an expert take a look at your bathroom either through a consultation or inspection.  Our contractors can provide both of these services for you.
Energy Efficiency
This is one of the most important aspects of bathroom remodeling.  If your bathroom design is energy efficient, that means you will save a significant amount of money each year on heating and other electricity related costs.
Planning ahead
Always make sure to have either a sketch or a picture for an idea of what you would like your newly remodeled bathroom to look like.  Making sure that your bathroom looks exactly the way you want it to is something we take very seriously.
Efficient Use of Space
Always making sure that your bathroom is making use of the available space in a way that maximizes the look and feel of your bathroom goes a long way towards helping to create a great result.  We make sure that all of our bathrooms create the most spacious look and feel possible.
Albany Bathroom Remodeling Services
Bathroom Fixture Installation
We are currently servicing Albany and the surrounding areas
Albany, NY | Guilderland, NY | Colonie, NY | Latham, NY | Niskayuna, NY | Green Island, NY | Saratoga, NY | Clifton Park, NY | Rensselaer, NY | Waterliet, NY | Loudonville, NY |
Contact us today for a free consultation and take advantage of our current promotions.